NUKELITE® – Exfoliated Vermiculite
NUKELITE®, is an exfoliated vermiculite, which is lightweight, environmentally friendly, non combustible, compressible, highly absorbent, non-reactive and a compatible functional filler.Vermiculite is a natural mineral of the phyllosilicate group which is exfoliated in purpose designed commercial furnaces.
Nukelite's thermal stability and inertness attributes to it being a very versatile mineral. It is clean to handle, odourless, mold-resistant and sterile due as it is subjected to high temperature during production.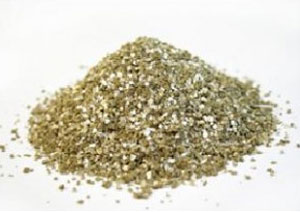 Applications of Nukelite:
Lightweight Concretes and Screeds
Vermiculite Plasters
Loose Fill Insulation
Fire Protection
Horticulture& Animal Feed
Refractory & High Temperature Insulation
Friction Linings
Special Coatings, Gaskets & Seals
Swimming Pool Liners
Packing Material