ISOLATEK® Type WB 3 & WB 4
Water Based Intumescent System
ISOLATEK Type WB 3 and WB 4 are water-based, VOC-Free intumescent coatings consisting of polyvinyl acetate resins and inorganic fillers for the fire protection of structural steel.
ISOLATEK intumescent coatings are preferably spray applied directly on well blast cleaned shop primed surfaces with airless spray equipment for speed and smooth and visually appealing finish. Brush application is also possible.
ISOLATEK intumescent coatings are classified by Warrington Fire Research Laboratory, Underwriters Laboratories, and other reputed testing authorities to provide from 30 up to 240 minutes fire resistance ratings in accordance with UL263, ASTME-119, BS476 Part 20/21 and ISO 834 for columns, beams, hollow sections and other structural sections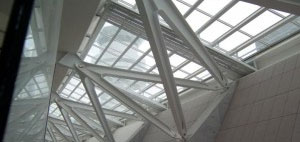 ISOLATEK intumescent coatings give architects the ability to design using steel that can be decorative and aesthetically pleasing. These coatings can be top coated to match to their surroundings and allow steel to be left exposed to view while providing the fire resistance rating and durability.