Industrial Spray – ISOLATEK® Type M-II
Vermiculite-Cement based Hydrocarbon Fire Resistive Coating
ISOLATEK® Type M-II is a single package factory controlled Spray-Applied Fire Resistive Material (SFRM) based on vermiculite and portland cement. It is the most widely used fireproofing product for use in the landbase oil, gas and petrochemical related industries. The material is used to achieve hydrocarbon fire ratings on structures, pressurised vessels, sphere, bullets, skirts and equipment in exterior environments and interior situations where higher levels of abrasion resistance and hardness are necessary.
Although ISOLATEK Type M-II is lightweight, thus significantly reducing dead load, it is also highly durable and resistant to cracking or spalling under mechanical impact. Its excellent fire performance offers the client an economical, durable and effective fire protection solution.
ISOLATEK Type TG
When application of the fire protection is required on a live plant, there are occasions when it is considered that application by spray may prove too high a risk in terms of spark ignition. ISOLATEK Type TG has been developed for application by trowel in areas where spraying is impractical or not permitted and has the same technical capabilities to perform as the spray grade material.
Fire Performance
ISOLATEK Type M-II and ISOLATEK Type TG have undergone extensive hydrocarbon fire resistance tests at approved independent laboratories to recognized world standards.
Tested to BS 476 Part 20-21:1987 Appendix D by Warrington Fire and Lyollds Register in the UK.
Cassified by Underwriters Laboratories(UL) for up to 4 hours protection in accordance with the Rapid Rise Fire Test (UL 1709). With UL 1709, the furnace temperature rises from ambient to 2000°F (1093°C) within five minutes. Only materials tested and classified in accordance with UL 1709 can be used where the risk of a hydrocarbon fire exists.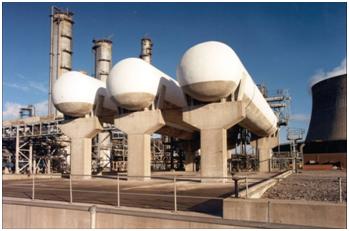 Isolatek Type M-II along with Topcoat applied on 3 LPG vessels
Spheres and Vessels
Our long term association with the petrochemical and chemical process industries has enabled Isolatek and Newkem to design and develop systems engineered to provide long term passive fire protection to storage vessels and spheres.
ISOLATEK Type M-II will limit the unwetted surface of vessel to below their critical temperature for the required period (usually two hours) for any of the following fire types:
Intense torching fires
Enveloping fires
Radiant heat from adjacent fires
The ISOLATEK Type MII system applied to vessels incorporates a self supporting mesh retention system which does not rely on mechanical fixing to vessel surfaces.
GASAFE
GASAFE was a project undertaken by several sponsors in Europe to investigate the behavior of pressurized LPG tanks and liquefied hydro-carbon products in pressure vessels under fire conditions. The project investigated the performance of fire protection materials under various conditions
(e.g. Jet fire, Pool fire, Accelerated weathering and Hose Stream tests).
The GASAFE results were excellent and independently confirmed that ISOLATEK Type M-II consistently exceeded the design requirements.
---
ISOLATEK INTERNATIONAL provides passive fireproofing materials under the CAFCO®and FENDOLITE
®trade names throughout the Americas and under the ISOLATEK® brand worldwide,