ISOLATEK® MANDOSEAL™
Non-Combustible Mine Sealant
ISOLATEK® MANDOSEAL™ is a spray-applied vermiculite based non-combustible sealant specifically developed for the underground mining industry. MANDOSEAL was developed as a result of joint research with the Ventilation Branch of the National Coal Board, UK.
MANDOSEAL is composed of vermiculite aggregate, portland cement and selective ingredients to aid in spray application and bonding to various materialsurfaces commonly used in mine construction.The mixture is pre-blended requiring only the addition of water. It sets and dries to form a hard durable monolithic finish.
USES
MANDOSEAL is being successfully used in coal mines for: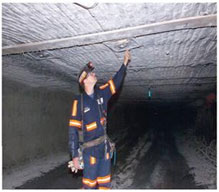 Sealing roadways and pack sides.
To Control the leakage of air and minimize heatings in areas of spontaneous combustion.
Booster fan sites.
To fireproof the roadway on both the intake and return sides.
Air doors
As a sealant to control ventilation.
Roadway junctions, transfer points and air crossings.
To fireproof these strategic areas
Stoppings
Small stoppings of mandoseal are easily placed and will not shrink under fire conditions.
Protection of Electrical Equipment
Sealing, repairing and pre- venting spalling of roofs and ribs and around electrical equipment where a noncombustible material is required.
FEATURES
Used by the National Coal Board (NCB), UK for over a decade at more than 100 different collieries.
Approved and Listed as a sealant for mine ventilation controls by the Mine Safety and Health Administration (MSHA), a division of the U.S. Department of Labor.
Resistant To Thermal Shock
Excellent Adherence on varied surfaces
High Compressive Strength
Fire Resistant Sealing System.