Speciality Coatings
Innovative Solutions for the Construction Industry
Newkem has introduced a new Coatings Division committed to provide new-age long lasting solutions to various flooring, roofing, corrosion, water seepage, and concrete carbonation problems faced by the Construction Industry.
We have an experienced and organised teamof individuals who can execute projects of varying magnitude across of the country.
We have developed tailor made systems And solutions to cater to Oil & Gas, Infrastructure, Power, Chemicals, Pre-Engineered Buildings, Commercial and Residential Building Industries.
Our coatings division has a broad range of services under its portfolio:
Polyurea and Polyaspartic Coatings
Water and Corrosion Protection Coatings
Protective Coatings – Epoxy, Polyurethane and
Anti Carbonation Coatings
Floor Coatings
Bridge Deck and Tunnel Water Proofing
Flame Retardant Coatings for Wood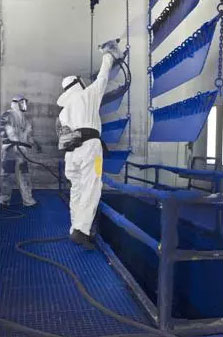 Newkem has partnered with various International and Indian Organizations to deliver systems tested and used on projects across the world.