THERMOLITE® Calcium Silicate
Calcium Silicate Insulation
THERMOLITE® developed and used since 1953, a high temperature, lightweight, abuse resistant, asbestos free and efficient industrial thermal insulant composed of hydrous calcium silicate with reinforced fibres.
It is available as rigid block forms in slabs, preformed pipe sections, beveled lags and powder.A high performance, easy to install material which has excellent physiothermal properties even after welting and drying,THERMOLITEconforms to IS 8154/IS 9428, BS 3958 Part II and ASTM C-533 specifications.
THERMOLITE, with its low thermal conductivity, high compressive strength and low shrinkage can provide ideal insulation for upto a service temperature of 1100°C to deliver a cost effective solution.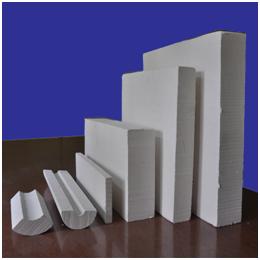 THERMOLITE®SG
Spray Grade Calcium Silicate Insulation
Newkem has successfully introduced THERMOLITE SG, a versatile product for high temperature thermal insulation with super THERMOLITE calcium silicate plastic. This method is designed especially for large surfaces and also irregular shapes such as turbines, boilers, storage tanks and others.