ISOLATEK® Type 300
Vermiculite Gypsum based Fire Resistive Coating
ISOLATEK Type 300 is a vermiculite and gypsum basedSpray Applied Fire Resistive Coating designed to provide fire protection for up to 4 hours to structural steel sections, steel and concrete frames, metal decking, roof decks and joists in commercial construction projects.
Extensively tested for fire endurance from 30 minutes and up to 240 minutes by Underwriters Laboratories (UL), Warrington Fire Research UK and other such independent laboratories to the following standards: BS 476: Parts 20 & 21, UL 263, ASTM E 119, ISO 834 and EN 13381.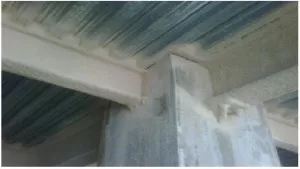 ISOLATEK Type 300 is applied exclusively by Trained and Certified Business Associates. Our experienced technical team works closely and in tandem with building team members (client, architects, structural consultants, fabricators, erectors including project management consultants) to meet all of their fire protection needs.
ISOLATEK Type 300 has been used extensively in India and across the world in commercial, infrastructure, residential, hospitals and hotel projects. Please contact us if you require a comprehensive project list.
This product can help you achieve LEED® points on your project. Please ask us for our LEED® Brochure
ISOLATEK INTERNATIONAL provides passive fireproofing materials under the CAFCO® trade names throughout the Americas and under the ISOLATEK® brand worldwide including India.Newkem is the licencee manufacturer and technical collaborator of Isolatek International in the Indian Subcontinent.
Prestigious Projects