ISOLATEK® Type WB 5
Water Based Intumescent System
Isolatek International's new Zero VOCs ISOLATEK® Type WB 5 is the latest introduction to the ISOLATEK range of water-based intumescent technology which unlocks the door to exposed interior structural steel design once considered unaffordable.
ISOLATEK Type WB 5 requires substantially less material to meet the required fire resistance ratings making it the most efficient water-based intumescent coating in the industry.
ISOLATEK intumescent coatings are preferably spray applied directly on well blast cleaned shop primed surfaces with airless spray equipment for speed and smooth and visually appealing finish. Brush application is also possible.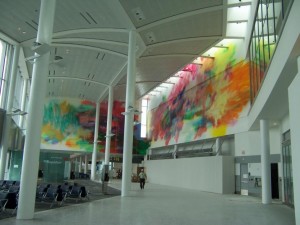 ISOLATEK Intumescent Coatings are classified by Underwriters Laboratories to provide up to 3 hour fire resistance ratings in accordance with UL 263 / ASTM E-119 and ISO 834.
ISOLATEK intumescent coatings give architects the ability to design using steel that can be decorative and aesthetically pleasing. These coatings can be top coated to match to their surroundings and allow steel to be left exposed to view while providing the fire resistance rating and durability.