DuPont™ Tyvek® Subtex
Lightweight and Waterproof Roof Insulation
DuPont™ Tyvek® Subtex is a 100% recyclable, waterproof, highly efficient and cost effective insulation system in India that caters to both needs of thermal and acoustical insulation in commercial and industrial roofing and pre-engineered buildings.
DuPont™ Tyvek® Subtex comprises of a unique low-mass synthetic polyester wool insulation blanket and a high-density non-woven vapour breathable membrane.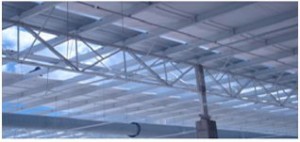 This vapor breathable Tyvek® substrate has unique properties that allow it to be resistant to liquid, water and air penetration, while allowing moisture vapor to exit the roof structure.
This unique property ensures that the insulation material is always kept dry, giving the desired Thermal Resistance (R – value) and fulfilling the acoustic insulation (U-Value) requirements.